It was a hard job choosing beautiful invitations. Wedding Stamps you need to finish them with a wonderful wedding stamp. You might be wondering if you really need special stamps on your wedding invites. Think about this: Do you want your invitations to impress your guests the moment they open them? If yes, you have probably thought a lot about the size and quality of your invitations, as well as the lettering and penmanship. Your mail will be complete with a carefully selected stamp. Are you unsure where to begin? This comprehensive guide will help you find the right stamps for your wedding invitations. It also includes our top picks from the United States Postal Service.
What is the cost of Wedding Stamps?
There are a few factors that will affect the cost of your wedding dj invitations stamps. You must first consider the size, weight and shape of your mail. Postage will be more costly for invitations that are larger or unusually shaped. You should also consider the delivery time and whereabouts of your invitations. You will spend more on wedding stamps if you send your invites first-class (which we recommend in order to give guests enough time to reply and prepare). Postage costs will also be higher if you send invitations to guests outside the US.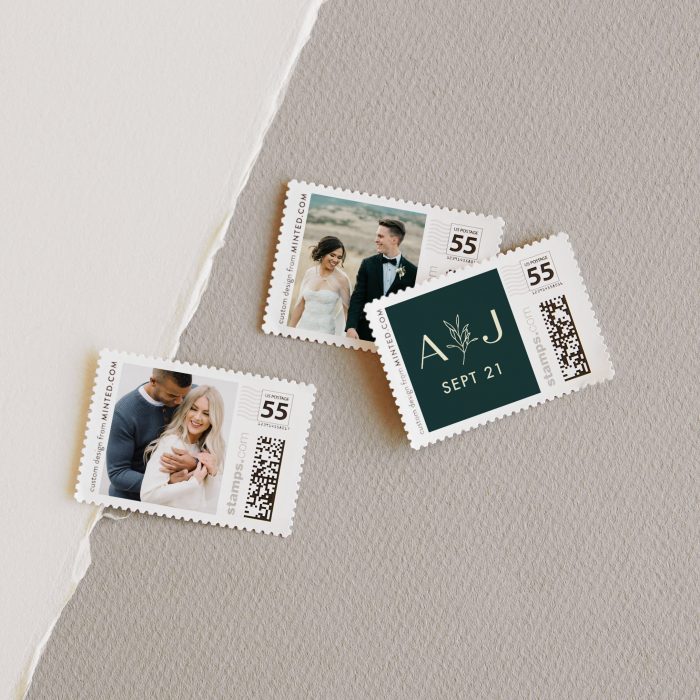 A single first-class stamp is $0.58 for invitations up to 1 ounce in weight. These are also called forever stamps. More information on this in a moment. A single first-class stamp will cost $0.78 if your stationery weighs in at least one ounce. Although it may not seem like much, this is a $20 difference when you buy stamps for 100 invitations. Apart from these prices, envelopes should be rectangular, flat, letter-sized, and made of paper. You should not attach string, buttons, seals, or clasps to your envelopes.
You can expect to pay a bit more for postage if your invitations have a unique shape or are larger than the standard size. A square invitation weighing less than one ounce will cost $0.88 to mail and $1.08 for those weighing between one and two. If the envelope weighs less that an ounce, it will cost $1.16 and $1.36 respectively. For postcards, postage stamps are slightly cheaper than for invitations. Therefore, save-the date or wedding announcement postcards will only cost $0.40 per piece. They must be rectangular and not larger than the standard size.
What is the best way to save money on stamps for wedding invitations? Plain paper envelopes are the best option if you already have your stationery. Otherwise, an outer envelope will be required for each invitation. When searching for your pakistani wedding invitation suite, be sure to consider things such as weight and shape. There are many beautiful paper invitations from The Knot Invitations. They are both rectangular and not too heavy.
You can save shipping costs by purchasing your wedding stamps bulk online. You can also avoid shipping costs by purchasing your stamps in bulk online. Last tip: Buy forever stamps early to maximize your budget. They will retain their value no matter what happens with postage costs in the future.
What are Forever Wedding Stamps?
We have already mentioned that forever stamps can be used to mail standard wedding invites weighing less then an ounce. These stamps are used to mail standard wedding invitations that weigh less than an ounce. They will not lose their value regardless of rising postage costs. The USPS also offers many different forever stamp designs which are ideal for wedding venue invitations. There are many unique options available at the moment, including Star Wars and Western themed stamps. However, the designs can always sell out or be changed so it is a good idea to get your hands on as many stamps as you can. A limited number of postage stamps with wedding themes are available that will add romance to your envelopes.
How many are required for Invitations?
A single forever stamp is required for every wedding invitation that is standard in size and less than one ounce. You can buy additional stamps in smaller denominations if a single forever stamp doesn't cover the cost for postage. To make up the difference, add 5 cents to your envelope. Do you not want multiple stamps crowding out your envelopes? For wedding stationery, the USPS offers single stamps that weigh up to 2 and 3 ounces.
Don't forget to include other elements of stationery when you buy your postage stamps. You will need stamps to send save-the-dates or RSVP cards. You will need at least three stamps for each invitation suite. You can also buy extra stamps to cover any errors in addressing your wedding invites.
Stamps to be included with RSVP cards
The short answer to your question about whether you should pre-stamp RSVP cards is yes. It is considered good etiquette for RSVP cards to be included with a stamped and addressed envelope. It will make it easier for loved ones and ensure a quicker response for you and your future spouse.
You can find wedding stamps at many places, including the USPS website and your local post office. For in-stock items, the USPS website estimates that it will take five to seven business days to ship your stamps. You should allow a little more time for them to arrive once you have placed an order. Amazon is a great place to purchase bulk wedding stamps. Etsy has many cool collectibles, vintage forever stamps, and other items that will help you set the tone for your invitations. There are different shipping charges for both these websites so be sure to read all the details. We recommend that you allow a little more room for unexpected delays when ordering wedding stamps online.
These are our top tips for choosing your Wedding Stamps
Are you unsure how to choose the right stamps for your stationery? Consider your theme for your wedding. The USPS online shop offers many unique options, including stamp designs inspired by nature and holiday-specific options. You can also make your atif aslam wedding pics location stand out. You can get creative with stamps that are tied to US states. The US Post Office offers regular stamps. Are you planning a Hawaiian wedding? You might consider wedding stamps with a photo of the sun or a palm tree.
You can also choose to purchase postage stamps that express your love in some way. A design could reflect the place where you met your first date, or even the first time you met. You could also choose a stamp that reflects one of your shared interests such as hiking, astrology, or animals. You can always choose something that symbolizes love if you are still having trouble finding the right one. Wedding stamps by the USPS add romance to any envelope.